Dr Justine Cormack: Violinist
My performing career so far…
Freelance Violinist
At this point in my career, I am deriving great artistic fulfilment performing as soloist, chamber musician, guest-concertmaster and orchestral violinist with a broad variety of my favourite musicians and ensembles.
In February 2020, I fulfilled a life-long dream to perform the cycle of 10 Beethoven Violin and Piano Sonatas. It was a rare and wonderful privilege to perform them all within 3 concerts over 3 days. I was joined by American pianist and dear friend Kate Boyd – and we plan to perform the cycle again in the USA as soon as circumstances allow.
Violinist of NZTrio
From 2002 to mid-2017, I was a founding member and violinist of NZTrio, performing throughout New Zealand, Australia, Asia, South America, the USA, Europe and Scandinavia.
We collaborated broadly across the arts spectrum working with animated film (David Downes, 2009), contemporary dance (New Zealand Dance Company, 2012/2013), theatre (Massive Company, 2013), voice (tenor Simon O'Neill, 2016), as well as cross-cultural musical works with masters of Maori taonga puoro, Chinese guzheng, and Cambodian traditional instruments.
Later highlights were a New Zealand tour of Messiaen's Quartet for the End of Time with UK clarinetist Julian Bliss (2016) and a significant cross-cultural project recording 9 new piano trios by Chinese composers in China.
I am hugely proud of the legacy NZTrio built during my 15 years with the ensemble. We commissioned and performed close to 40 works from NZ composers and showcased these compositions within diverse programmes on the world stage. At my final performance with NZTrio, we were awarded the Lilburn Trust Citation for Outstanding Services to New Zealand Music. You can watch some live performances and listen to recording excerpts of NZTrio on this website.
Committed to bold and colourful presentation, NZTrio also struck up an inspiring relationship with New Zealand's 'avant-garde' luxury fashion house WORLD. I am incredibly fortunate to be continuing this collaboration, wearing their witty and wonderful clothing both onstage and off (as pictured here).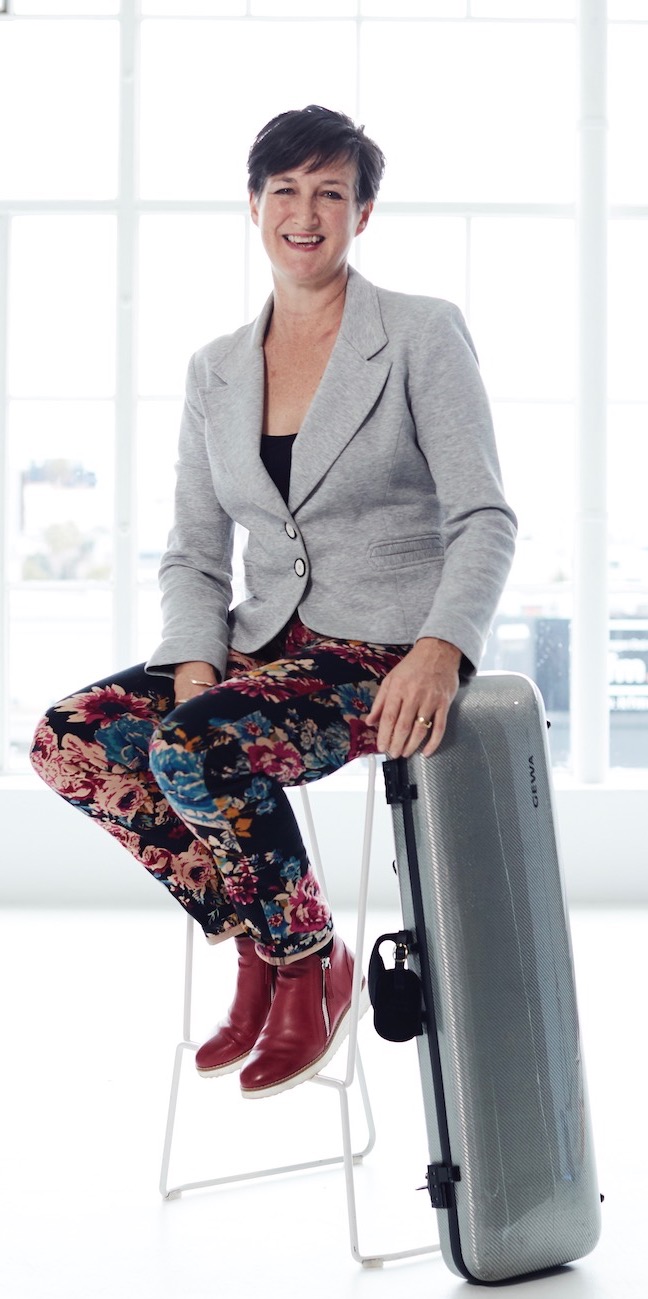 Recording Artist
An active recording artist, some recent highlights have been the highly acclaimed commercial release of Douglas Lilburn's Piano and Violin Duos with New Zealand's highly celebrated pianist Michael Houstoun, and the Radio NZ recording of Chris Watson's ogee – for solo violin and orchestra with the New Zealand Symphony Orchestra (subsequently nominated as a finalist for the 2019 SOUNZ Contemporary Award).
While with NZTrio, we released seven commercial recordings and were nominated on a number of occasions for best classical album as well as best Jazz album in the Vodafone NZ Music Awards – for Vicissitudes with the Mick Nock Trio. In 2017, NZTrio was awarded Best Classical Artist for the Rattle release of Sway.
Concertmaster and Judge
Prior to NZTrio, I was the Concertmaster of the Auckland Philharmonia and regularly featured as soloist from 2000-2004. During this time, I also acted on the international judging panel of the first four Michael Hill International Violin Competitions. Previous to my Concertmaster role in Auckland, I was sub-principal first violinist of the New Zealand Symphony Orchestra during the 1990s.
Tertiary Qualifications and Teaching
A graduate of the University of Canterbury, I have a Masters degree from San Francisco Conservatory and a Doctoral degree from Stony Brook in New York. I have taught violin at Wellington's Victoria University and also held a position as Violin Lecturer at The University of Auckland. I maintain a private teaching studio and more and more I am using online technology to teach and coach people no matter where they are in the world.
My Violin
My instrument and partner in play is a gorgeous 1868 J.B.Vuillaume violin.